How To Get From Melbourne Orlando Airport (MLB) To Universal Studios
Melbourne International Airport is a popular regional airport for domestic flights within the US and more recently with UK-based airline TUI.
Having recently flown into Melbourne Orlando Airport (MLB) and travelled up to Universal Studios Orlando we've found that there are three different methods of transport between the two locations; rental car, rideshare service, or package holiday transfer.
Which transfer method is right for you will depend on how many people you're travelling with and your budget.
*per day. Costs and duration are averages. Exact durations and costs will vary depending on the class, date and time of travel.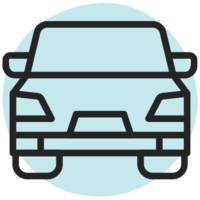 Hire Car
⏱️ Time: 1.5 hours
💵 Cost: $22 per day
💻 Book Hire Car: Discover Cars
Travelling from Melbourne International Airport to the Universal Studios Resort by car takes roughly one and a half hours and see's you drive north along the I-95 before heading west along FL-528.
While travelling by car from the airport to Universal Studios Orlando is both incredibly popular and incredibly convenient, it's worth keeping in mind that you'll be responsible for the car for the duration of your vacation not just the single journey between the airport and your hotel.
As such it's worth keeping in mind that the cost of hiring a car depends on a number of factors including;
Rental duration
Size and type of vehicle
Age of the primary driver
Insurance policy selected
Hire company themselves
Hiring a car in Orlando can cost as little as $22 per day depending on the vehicle you're looking to hire. However, sadly this won't be the only expense you incur when hiring a car during your vacation.
Instead, one of the other major costs you'll want to consider is the cost of parking at Universal Studios Orlando and hotels (where applicable).
These costs are easily overlooked yet can quickly double the overall cost of a rental car and make the benefits of having a rental car negligible in comparison.
Featured
Free Universal Orlando
Printable Packing List
Our comprehensive Universal Orlando packing list can be both customised and printed for your convenience.
Universal Studios Orlando On-Site Hotels With Parking
Below is a list of all the on-site hotels at Universal Studios in Orlando, Florida, alongside the cost of parking (per night).
Some of the hotels also offer valet parking for an additional fee. Although the parking pricing is subject to change at any time, prices are correct at the time of publication.
Rental Car Locations At Melbourne Orlando Airport
Unlike other major international airports in Orlando, Melbourne International Airport has a limited number of car rental desks which are situated just outside of the arrivals area.
Given the size of the airport and the limited number of rental car services available it's highly recommended you reserve your rental car in advance and pick it up on your arrival at the airport.
When hiring a car in Orlando (or elsewhere in the US) we use Hoppa.
This search aggregator allows you to compare the cost of different cars with different car rental companies.
The rental car company you book with will provide you with detailed directions to where you can collect the keys and any additional information about your rental in an email when booking.
All hire cars are located outside of the terminal in the parking garage.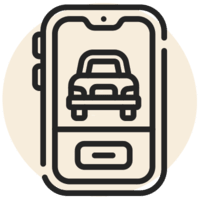 Rideshare
⏱️ Time: n/a
💵 Cost: $94 – $130
💻 Reserve Rideshare: Lyft
Both Uber and Lyft serve Melbourne Orlando Airport and Universal Studios in Orlando, Florida.
The journey time between the two locations is much the same as a rental car (roughly one and a half hours).
An Uber from Melbourne Airport (MLB) to Universal Studios typically costs between $94 and $130.
Uber pricing is dependent on the time of day you travel / traffic and demand for the service, as well as the type of service/vehicle you choose.
Meanwhile, the cost of a Lyft between Melbourne Airport (MLB) and Universal Studios is typically between $110 and $170.
The exact cost depends on the type of Lyft you choose (carpool, standard, SUV / minibus or luxury) as well as the traffic and demand for the Lyft service in the area.
It's important that you don't book your Lyft or Uber until you've passed through immigration, and security and collected your baggage if the car is waiting for you for longer than five minutes, it will leave, and you'll still be charged.
Instead, wait until you're ready to leave, and then book your service.
This process can take up to five minutes depending on the demand for drivers at that time.
Given the limited number of flights serving Melbourne Airport, there aren't many traditional taxis serving this area. As such an Uber or Lyft is always the best choice when looking for a taxi service.
Private Airport Transfer
⏱️ Time: n/a
💵 Cost: n/a
💻 Reserve Transfer: Hoppa
If you have booked a package holiday to Orlando with TUI and have flights to Melbourne International Airport then you may find a coach transfer has been provided to your hotel complimentary.
Complimentary coach transfers will be highlighted when you're browsing for holidays on the TUI website and confirmed again in your booking confirmation email.
TUI staff are located just outside of the arrivals terminal (in front of the coaches) and are able to provide you with the information as to which coach you'll be travelling on.
In our case, we travelled to Universal's Endless Summer Resort – Dockside Inn and Suites which was the second stop on the journey.
While travelling in a shared coach to the hotel isn't the most comfortable or the quickest it's still the cheapest option if it's included as part of your holiday.
Universal Orlando Travel Planning Guide
🎟️ Where To Buy Tickets for Universal Orlando?
If you're based in the US or Canada, I recommend Klook for your Universal Orlando tickets. Klook consistently has the most competitive prices. There's also a range of different ticket options to suit all budgets and requirements.
Meanwhile, if you're based in the United Kingdom. Then I recommend buying your Universal Orlando theme park tickets from AttractionTix. I personally use AttractionTix when purchasing Orlando theme park tickets. That's because AttractionTix consistently has the most competitive prices and incredible customer service.
🏥 Should I Buy Travel Insurance for a Visit to Universal Orlando?
If you're travelling to Universal Orlando for vacation, then travel insurance is recommended. Basic travel insurance coverage with Safety Wing averages between $5 – $10 per day and offers peace of mind.
However, if a trip to Universal Orlando isn't part of a vacation. For example, you live locally. Then travel insurance isn't likely to be necessary.
🚘 Do I Need to Rent a Car for a Visit to Universal Orlando?
You don't need to rent a car to visit Universal Orlando, as the resort has Uber / Lyft pick-up and drop-off points. However, if Universal Orlando makes up the majority of your vacation, then you may want to stay on-site.
Staying onsite at the Universal Orlando Resort comes with several perks. Including complimentary transport from the hotel to the Universal Orlando theme parks. In some cases, you can even walk from your hotel straight to the theme park gates.
However, if a trip to Universal Orlando only makes up a portion of your vacation, then you may want to rent a car. I personally use Discover Cars to find the best car rental for all of my trips to Orlando.
🏨 Where to Stay When Visiting Universal Orlando?
If you're spending the majority of your vacation at Universal Orlando, it's a good idea to stay at a Universal Orlando hotel. Staying onsite at Universal Orlando comes with several perks, including;
While staying onsite at Universal Orlando is great value for money, it can still be out of budget for many. Thankfully, there are several budget-friendly hotels close to Universal Orlando to choose from.
Meanwhile, if Universal Orlando only makes up part of your Orlando vacation, then you may want to stay elsewhere. Kissimmee, International Drive and Lake Buena Vista are all within a 40-minute drive of Universal Orlando.
When it comes to booking hotels in Orlando, I use either Booking.com or Hotels.com. However, for large families and groups, VRBO is my number one choice.