How To Get From Lanzarote Airport To Puerto Del Carmen
The popular tourist resort of Puerto Del Carmen is located on the south coast of Lanzarote, just 12km (roughly 30 minutes) from Lanzarote airport.
As such, there are four key ways you can travel from Lanzarote (Arrecife) airport to Puerto Del Carmen; hire car, taxi, public transport or on a package holiday transfer.
Which method you choose will likely depend on a couple of different factors, including; what you plan to do during your trip, where you're staying in Puerto Del Carmen, your budget and who you're travelling with.
As such, we've put together this guide to help you determine which transport method might be best for you.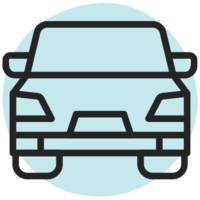 Hire Car
⏱️ Time: 30 minutes
💵 Cost: €10 per day
💻 Book Hire Car: Discover Cars
A hire car is an excellent option if you're planning on doing a lot of exploring during your time in Lanzarote or if you're staying in a self-catering complex that isn't well connected to the rest of the area.
While having a hire car gives you the freedom to come and go as you please without adhering to any set timetables, it does, however, come with its drawbacks, including additional costs and stress.
If you've decided that you'd like to hire a car during your trip to Lanzarote, it's often best (both most convenient and affordable) to book your hire car online in advance and collect it from the airport upon your arrival.
Most car hire desks inside Lanzarote Airport are located in the arrivals hall opposite the baggage claim area.
Once you've got your keys and the details for your car, you'll likely find it parked upstairs in the car park.
While driving in Lanzarote is relatively easy, navigating around Puerto Del Carmen can sometimes be challenging given the one-way systems.
That said, the journey should take no more than 30 minutes, and most hotels and apartment complexes have parking directly outside.
The vast majority of car hire companies in Lanzarote provide the hire car with a tank 1/4 full of petrol, and you'll be expected to return the vehicle with a similar tank to get your deposit back.
As such, you'll likely need to fill the hire car with petrol during your hire period.
Luckily, you can find petrol stations on most major roads within Lanzarote, and staff are accustomed to assisting tourists with fuel top-ups when required.
Petrol prices in Lanzarote are similar to that of the UK (despite the fact it's a significantly smaller island); as a result, you shouldn't spend more than €10 per day on petrol unless you're driving a 4×4 or minivan.
Taxi
⏱️ Time: 25 minutes
💵 Cost: €20 – €30
💻 Reserve Taxi: Hoppa
If you're not travelling as part of a package holiday that includes transfers or hiring a car for your trip, then you'll more than likely look for a taxi to take you from the airport to your accommodation in Puerto Del Carmen.
In this case, you'll be looking to pay roughly €20 – €30 one-way, although the price will vary depending on the taxi size you get and your exact location.
Pro tip: Unlike some other countries, you'll rarely have to haggle with a taxi driver in Lanzarote to turn on their meter.
The taxi rank at Lanzarote airport is located just outside the arrivals hall and is well signposted within the airport.
Given that taxis are the most popular way to travel from Lanzarote airport to major resorts across the island, it's not surprising to find up to 100 people waiting for a taxi at any one time.
However, given the taxi rank is incredibly well organised, this queue does move relatively quickly & you'll often rarely wait in advance of 30 minutes.
Taxis in Lanzarote do not come with child seats for any age. As such if you're travelling to Lanzarote as a family it's best to bring a portable car seat with you when you travel.
When it comes to travelling back from your accommodation in Puerto Del Carmen to Lanzarote airport, most hotels will be able to call a taxi to come and collect you.
However, in the rare case that isn't possible, you should be able to flag a taxi down from outside your accommodation relatively easily – just be sure to leave 10 to 20 minutes in advance to allow for the extra wait time.
Bus
⏱️ Time: 30 minutes
💵 Cost: €1.40 per person
💻 Buy Bus Tickets: Omio
If you're looking to save money on your transport between Lanzarote airport and your accommodation in Puerto Del Carmen, then you can opt to take the public bus, which runs along the strip of Puerto Del Carmen, before continuing onto Playa Blanca.
Of course, this isn't the most convenient method of transportation and depending on how much luggage you have and where you're staying in Puerto Del Carmen could make the start of your trip here a difficult one.
That said, if you think taking the bus is going to be best for you, then you'll be able to take the airport bus from the bus depot area, which is outside on the roof of a building next to the airport.
You'll find this area by turning right when coming out the double doors at baggage claim and walking along past the tour operator stands and out another set of double doors.
If you're unsure at any time, staff members will be able to point you in the right direction; however, for the most part, it's very well signposted and, therefore, relatively easy to find.
Once you're at the bus depot area, you'll be looking for the Lanzarote public bus. This is notable since this is also the area where tour operator buses leave from (Tui, Jet2 etc.)
There are two buses that go from Lanzarote airport to Playa Blanca via Puerto Del Carmen, and they are the 161 and the 261.
These buses run every 30 minutes between Monday and Friday from 7.30am to 10.30pm, with fewer buses at the weekend and on public holidays.
The bus journey from Lanzarote airport to Puerto Del Carmen costs €1.40 per person, with children travelling for free with a paying adult.
When heading from the Airport toward Puerto del Carmen and Playa Blanca, the bus travels along the Puerto del Carmen seafront (Avenida de las Playas).
However, the bus takes a different route when heading towards the airport (through some of the resort's backstreets).
As such, you'll want to make sure you map in advance the bus stop closest to your accommodation both for your arrival in Puerto Del Carmen and your departure back to the airport.
Private Airport Transfer
⏱️ Time: 25 minutes
💵 Cost: €25 – €30
💻 Reserve Transfer: Hoppa
If you've booked a package holiday with the likes of Jet2 or TUI, you might find that transfers from Lanzarote Airport to your hotel in Puerto Del Carmen are included in the cost of your holiday.
In this case, collect your baggage and then exit through the double doors.
Upon doing so, on your right, you'll see the desks for different tour operators where staff members will be on hand to direct you to your bus.
The bus area is outside of the airport, follow the red pathway up and around to the left. From there you'll be able to take either a lift or an escalator up to the second floor.
Luggage trolleys are not permitted up to the second floor where the buses leave which can make getting to the bus area incredibly difficult if you have a large number of items or mobility issues.
However, while there are signs telling you not to take the luggage trolley upstairs, nobody was stopping you and in some cases, it's more than understandable as to why it would be required.
In peak hours you might find additional tour operator representatives here to direct you; if not simply proceed to your allocated bus bay location by following the signposts.
There are no vending machines here, only toilets, and in our case, we waited over an hour for our bus to leave; therefore, it's well worth picking up a drink and a snack in the arrivals airport if you think it may be required.