How To Get From Phuket Airport To Patong (Quickest & Cheapest!)
Phuket International Airport is one of the largest airports in Thailand and serves more than 16 million passengers each year. The airport is located 40km by road from Patong and takes around one hour to reach by car.
The cheapest way to get from Phuket Airport to Patong is by bus. The journey costs 150 Baht one-way per person and can be booked online in advance or in person at the airport upon arrival. The total journey time is usually around 1 hour 20 minutes.
However, there are some other ways you can get from Phuket Airport to Patong that you might want to consider if you're travelling as a large group or a family, or arriving late at night.
Taxi
⏱️ Time: 1 hour
💵 Cost: 700 baht – 900 baht
💻 Reserve Taxi: Hoppa
Travelling by taxi is the most convenient way to get from Phuket Airport to Patong. However, it's also the most expensive.
The taxi rank at Phuket airport is located outside the main exit doors at the arrivals terminals. Follow the signs which are located above your head.
Taxies are often lined up looking to take you to your destination, however, they'll often be people coming up to you offering you transfers to Patong for a 'good price' – this good price is never good enough, and often the car is unlicenced to carry passengers.
Once you get to the front of the queue, tell the driver where you are going in Patong and specify that you're looking for them to use a meter (the meter is regulated by the Phuket council and is, therefore, the best price you'll get).
The cost of a taxi from Phuket Airport to Patong will be between 700 baht and 900 baht. This price includes the 100 baht airport fee.
Bus
⏱️ Time: 2 hours
💵 Cost: 150 baht – 200 baht
💻 Buy Bus Tickets: Omio
There are a number of buses that run from Phuket Airport to Patong. Some run direct, while others stop in Phuket town (where you may or may not have to change to another bus to run from Phuket Town to Patong).
Airport Bus Express
Located outside the main passenger terminal (follow to the signs overhead), the airport bus express runs directly from the airport to Kata, Karon, and Patong.
Buses run from 7.30am until 8pm and the journey takes around 2 hours but costs just 150 baht per person (or 200 baht if you're travelling to Kata or Karon).
Airport Bus
An alternative to the Airport Bus Express is the Standard Airport Bus. This bus travels from Phuket Airport to Phuket Town every hour from 7.30am until 6.30pm and departs from outside the arrival hall (follow signs overhead). The journey costs 100 baht and takes around 1.5 hours.
Buses in Phuket can take longer and be less reliable when compared to a taxi.
Subsequently, I recommend setting off earlier so you can still arrive at Phuket International Airport with plenty of time to check-in for your flight, drop off your bags and go through security.
Once at Phuket Old Town Bus Terminal you'll need to change to a bus heading to Patong. Buses leave the terminal every hour between 7.00am and 9.30pm, take one hour and cost 50 baht per person.
Bus
⏱️ Time: 1 hour
💵 Cost: 50 baht
💻 Buy Bus Tickets: Omio
Minibus companies are located on the ground floor of the arrivals terminal and offer a taxi/bus combo at a reasonable price.
Shared minibuses cost 200 baht per person between Phuket Airport and Patong.
However, while you may go directly to the Patong region you'll likely find your journey is extended by an hour as you wait for the minibus to fill with passengers and drop off other passengers at other hotels.
You can also pre-book this transfer for 300 baht per person online in advance. Payment is taken by debit/credit card and takes out the hassle of organising a shared minibus transfer upon your arrival.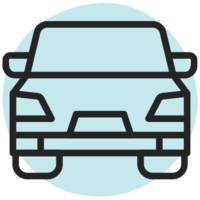 Hire Car
⏱️ Time: 35 minutes
💵 Cost: 800 baht
💻 Book Hire Car: Discover Cars
Airport limousines aren't actually limousines as you and I think of them. Instead, they are what I would refer to as smart taxis.
These modern, clean, comfortable cars cost around 800 baht and include no additional airport fee – unlike the standard 100 baht charged by regulated taxis.
The airport limousine counters are located inside on the ground floor of the arrivals terminal and often also sell shared minibus tickets. You'll be able to request a taxi and leave straight away.