Rental Car VS Uber In Orlando – Which Is Best? 
Some of the links below are affiliate links. This means that, at zero cost to you, I will earn an affiliate commission if you click through the link and finalize a purchase.
One of the first things you'll want to consider when planning your Orlando vacation is how you'll get around.
The most popular options are; driving your own vehicle, getting a rental car or using a ride-sharing service such as Uber or Lyft.
If you're an international traveller or travelling across multiple state lines to Florida then driving your own vehicle isn't likely to be feasible.
This means you'll need to either hire a rental car or use a ride-sharing service, but which is best?
A rental car is a great choice if you're looking to explore beaches and theme parks outside of Orlando. However, Uber or Lyft may be more economical if you're staying within Orlando and just heading to the theme parks, shopping malls and grocery stores in the city.
If you've travelled to Orlando in the past then may have chosen to hire a rental car.
However, the increase in costs associated with rental cars over the years along with the development and increased popularity of Uber and Lyft's services may make you want to reconsider.
Based on our own experience we've broken down which method we believe is best for each type of Orlando traveller.
However, keep in mind that this is a generalisation so you'll want to consider your own circumstances before making a decision.
Budget Travellers
The cost of a rental car in Orlando is made up of a combination of different expenses;
Rental car
Gas
Tolls
Parking
If you're planning on visiting theme parks multiple times during your vacation then the cost of parking could quickly exceed the cost of the rental car itself.
For example, parking at Universal Studios Orlando or Walt Disney World is $25 a day.
As such if you spent two days at Universal Studios and five days at Walt Disney World then you'll spend $175 on parking – and in some situations, this isn't the only parking you'll pay for.
That's because select hotels and resorts in Orlando also charge a parking fee per night.
As such if you're travelling on a budget and visiting multiple theme parks during your vacation then the best and most affordable option is likely going to be a ride-sharing service such as Uber or Lyft.
Consider researching either hotels within walking distance to one of the theme parks you plan on visiting the most or hotels with shuttles to the theme parks to subsidise the cost of ride sharing services further.


If you're not looking to visit theme parks excessively during your trip and are able to find accommodation in Orlando with complimentary parking then the cost of a rental vehicle is likely to be very similar to that of ride-sharing services.
In that case, it's all about convenience and flexibility as to what's going to suit your vacation the best.
Large Families (5+ People)
If you're travelling to Orlando as a family of five or more then when ordering an Uber or a Lyft you're going to need an XL model.
This accommodates up to six people with journeys costing on average $10 more than a basic vehicle.
If you're travelling as a family of up to six people and heading to the theme parks multiple times during your vacation then an Uber or Lyft is still likely to work out as the best option.
This is again a result of the $25 per day charge of parking your vehicle at theme parks such as Universal Studios Orlando and Walt Disney World.
However, if you're travelling as a family of seven or more then you'll need two or more rideshare vehicles.
Not only is this a logistical nightmare, but it's also going to significantly increase the total amount you spend on ridesharing apps during your vacation.
Meanwhile with a rental car, given that the parking charges at hotels, resorts and theme parks in Orlando are based on the number of vehicles and type of parking (valet, priority etc) rather than the vehicles size then the cost of parking is going to remain fixed.
Instead, the only things that are going to increase the total cost of a rental car are the size of the vehicle you'll need to hire and the amount of gas the vehicle uses.
As such the total cost of a rental car and the total cost of rideshare vehicles are likely to be incredibly similar.
However, given that a rental car is not only going to come with the added flexibility of being able to go anywhere at any time but also make logistically moving everyone around Orlando significantly easier we'd suggest this as the better option.
Travelling With A Baby
Ride-sharing company Uber operates a programme in Orlando that allows you to book a vehicle with a car seat.
However, these car seats are only suitable for children over the age of two.
While this doesn't stop children under the age of two from going in an Uber it does mean that you'll need to bring your own car seat with you.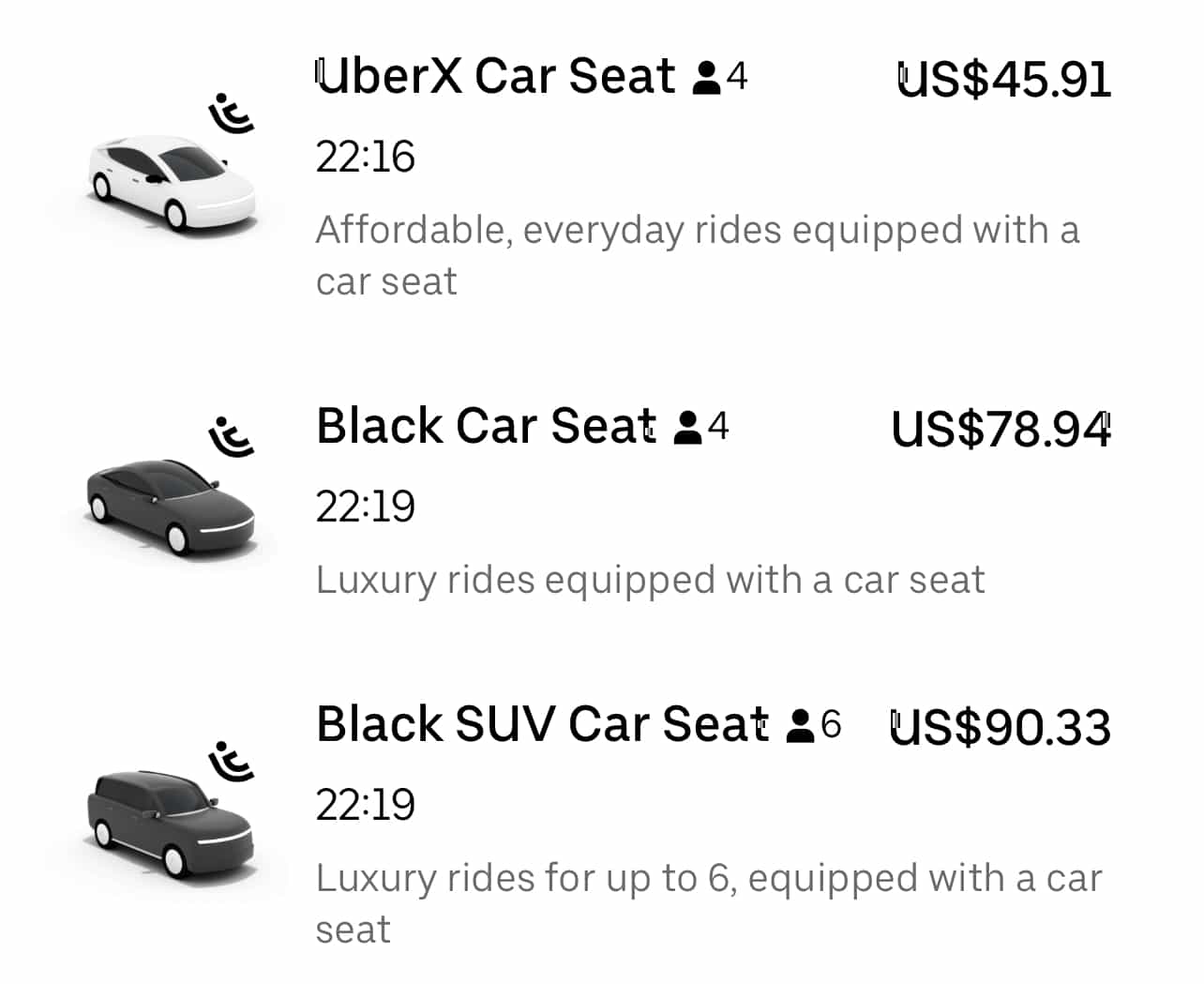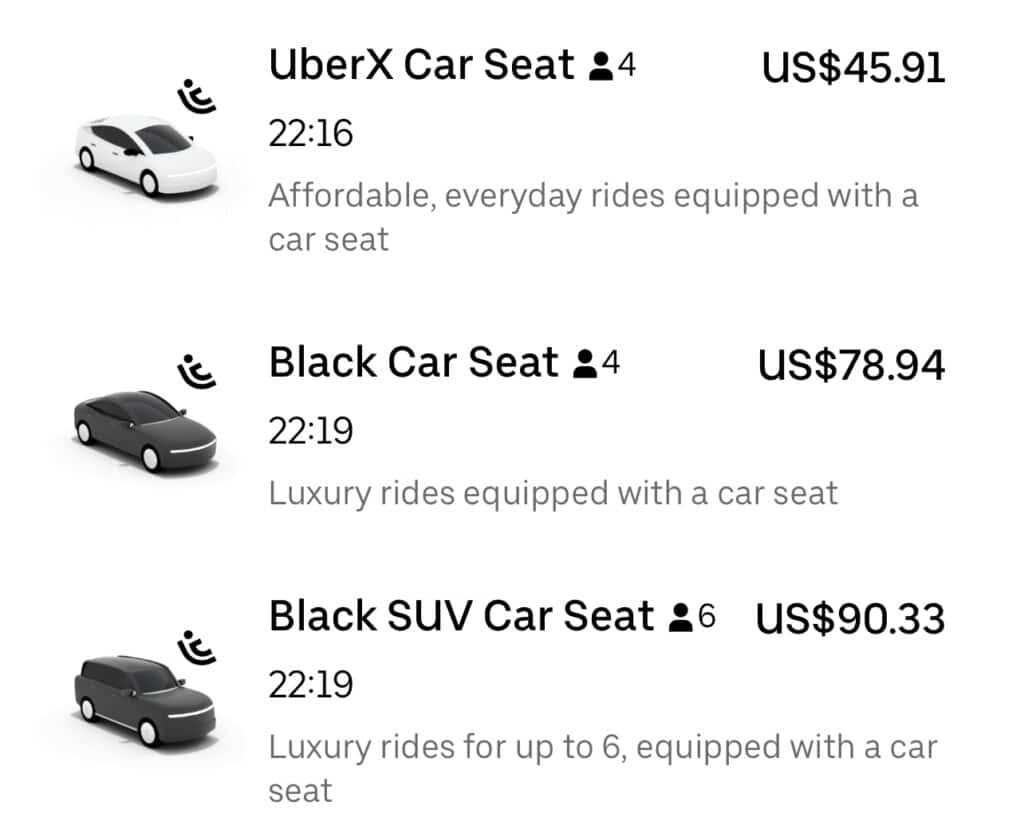 Speaking from experience this can be a logistical nightmare – especially at theme parks since most car seats suitable for babies are often too big to store in any of the lockers.
As such if you're travelling with a baby we'd recommend hiring a car where your budget permits.
This will allow you to leave the car seat in the vehicle and transfer the baby into a stroller or carrier while you explore everything Orlando has to offer.
Heading Out Of The City
If you're heading out of Orlando to other nearby cities or to the coastline while on vacation then a rental car is going to be significantly cheaper than a ride-sharing service.
However, depending on the length of vacation and what you're planning on doing during your time in Orlando you may want to consider only hiring a rental vehicle for a select number of days and then using a ride-sharing service at other times.
Staying On-Site
If you're staying on-site at either Universal Studios or Walt Disney World during your vacation then you're likely to be spending the majority of your vacation at that resort's theme park.
The benefit of staying on-site at a theme park hotel is that you're provided with complimentary transportation to the theme parks.
Walt Disney World hotels to the Walt Disney World Parks and Universal Resort hotels to City Walk for Universal Studios Florida and Islands of Adventure and then direct to Volcano Bay.
As such you're unlikely to be regularly (more than once a day on average) needing transport off-site to other theme parks, grocery stores and shopping malls.
As a result, it often works out more convenient and economical to book an Uber or Lyft as and when you need one.
On our most recent trip to Orlando (Sept '22) the cost of an Uber from Walt Disney World to Universal Studios was between $22 – $32 each way.
Given that parking at Universal Studios is $25 per day and parking your rental car at Walt Disney World is between $15 and $25 per night (depending on the hotel) it's no surprise that worked out cheaper for us to use an Uber or Lyft as and when we needed one throughout our vacation.