We have used ridesharing services such as Uber and Lyft in Orlando for the best part of a decade and now find it significantly easier to order a ride on our smartphone than hire a car during our vacation.
Uber and Lyft are both available in Orlando and are very similar in the level of service offered.
As such which service is best to use often comes down to the cost and the wait time. Sadly both of these are based on the demand for the service in real-time.
This often makes one service quicker and cheaper on one occasion and the other service on the next.
As such we often recommend downloading and setting up profiles on both Uber and Lyft ready for your Orlando vacation so you're able to find the cheapest and / or the quickest ride available from either service as and when you need it.
Both Uber and Lyft work on a rate charge model that combines the distance travelled with the demand for riders at that time along with any tolls and additional charges.
As such, if Uber is particularly short on drivers in a select area at that time you'll be charged an inflated rate.
However, this inflation is isolated to Uber and as such may not be demonstrated on Lyft at that time if they have an adequate number of rides available in that area at that time.
Given this, you may get a quote for a trip from Walmart to Walt Disney World with Uber and find it's cheaper than Lyft only to find out that the exact same route is cheaper with Lyft ten or twenty minutes later.
Take our recent journey from Orlando Airport (MCO) to Universal Studios recently.
We checked both Uber and Lyft and found that while both services could pick us up within three minutes Uber was almost $1 cheaper for the base rate and more than $5 cheaper for the luxury service or XL service.
As such we highly recommend going ahead and downloading and setting up profiles on both applications.
This way you're able to check which service is the cheapest in real-time based on your own location and journey.
The exact number of drivers each ridesharing service has in a particular location isn't made public online.
However, based on our own experience we estimate that Uber has slightly more drivers in Orlando when compared to Lyft.
That being said, Uber is also more frequently used by both locals and those on vacation. As such the supply of cars often meets the demand similar to that of Lyft.
During our first trip to Orlando with a baby, we found ourselves in the unique situation of needing to find vehicles with car seats.
At the time of writing Uber is the only rideshare service that offers rides in vehicles with children's car seats in Orlando.
Vehicles with car seats for children are referenced as Uber Car Seat and come in UberX, Black Car and Black SUV vehicles.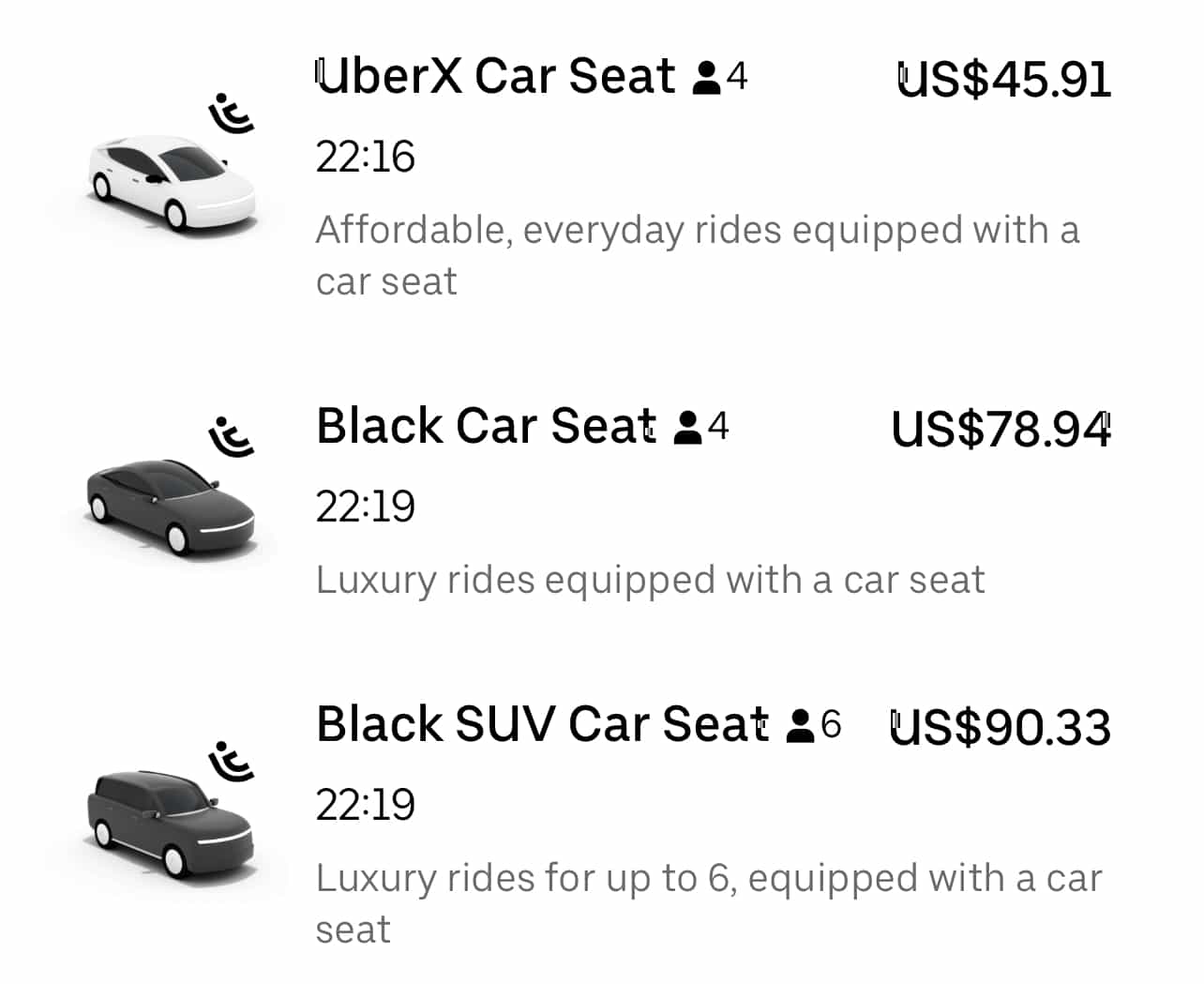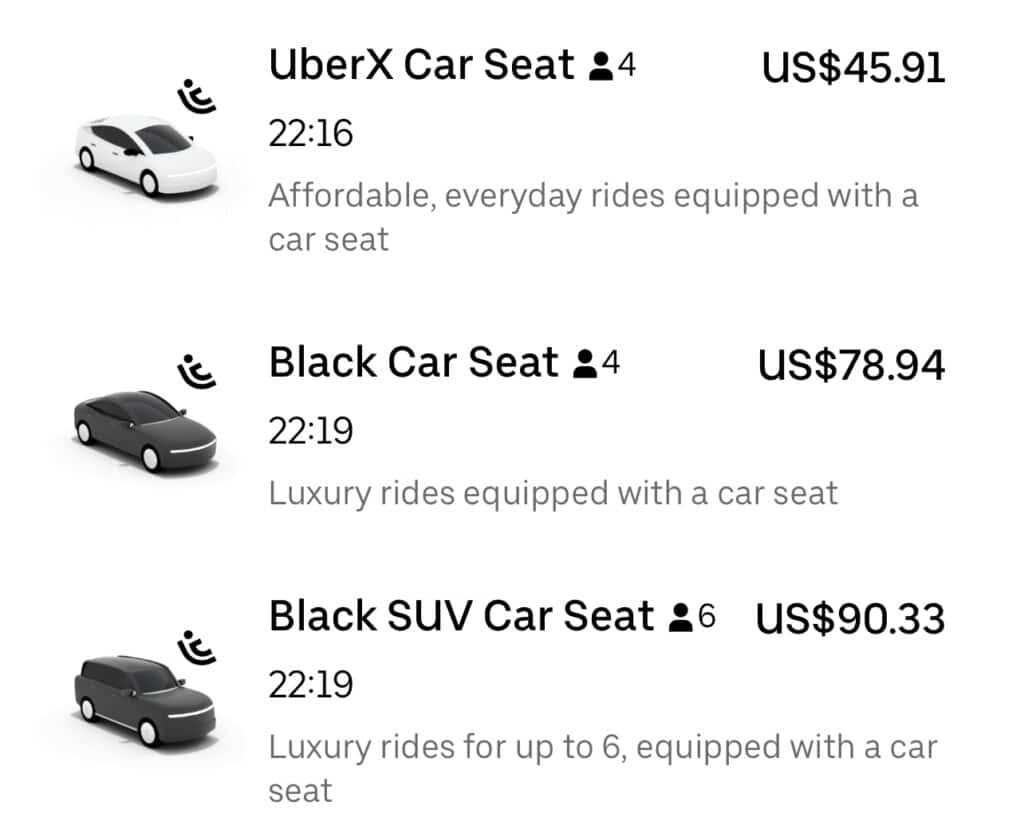 Uber vehicles with a car seat charge an additional $10 per fare. As such if the UberX ride is $30, then the UberX Car Seat ride will be $40.
To be registered as an Uber Car Seat driver vehicles must be equipped with at least one forward-facing car seat for a child who is at least 2 years old, 22 pounds, and 31 inches tall.
As such Uber Car Seat vehicles often do not come with car seats designed for children under 2. Meanwhile, children at 48 pounds or 52 inches are too big for the minimum car seat requirements of Uber.
In our case, this meant either renting a car and leaving the baby's car seat in the vehicle or going ahead and using the car seat in the Uber before attaching it to the wheels of the travel system for the remainder of our day.

Meanwhile, for children over 48 pounds or 52 inches still requiring a car seat it means investing in a travel car seat that can then be carried or stored in lockers (where available) for the rest of your day.


Can Both Uber & Lyft Drop Off / Pick Up From Walt Disney World?
Both Uber and Lyft are able to pick you up and drop you off from all Walt Disney World hotels and parks.
However, for guests looking to visit Magic Kingdom both rideshare services will drop you off at the Ticket and Transportation Centre from which you'll need to take either the monorail or ferry to the entrance of the park.
Can Both Uber & Lyft Drop Off / Pick Up From Universal Studios?
Both Uber and Lyft are able to pick you up and drop you off from all Universal Studios hotels and parks.
Regardless of whether you're visiting Universal Studios Florida, Universal's Islands of Adventure or Volcano Bay you'll be dropped off and picked up on the roof of the parking garage outside of CityWalk.
In the case of Universal Studios Florida and Universal's Islands of Adventure, you'll then need to walk through CityWalk to the entrance of the park.
However, for Universal's Volcano Bay waterpark you'll need to take a shuttle bus from the bus depot just outside of CityWalk over to the park.
This bus journey is free and takes around five minutes with buses running every ten minutes starting an hour before the park opens to an hour after the park closes.
Can Both Uber & Lyft Drop Off / Pick-Up From Orlando Airport (MCO)?
Both Uber and Lyft are able to pick you up and drop you off at Orlando Airport (MCO) and neither is preferred by the airport over the other.
As such you're best looking for a ridesharing service that's able to pick you up the quickest or the cheapest at the time of travel.
There are various pick-up and drop-off points across the two MCO terminals for drivers to use.
As such you should be able to get a driver to pick you up or drop you off close to where you are / need to be.